Facilities & Activities
The Lodge Restaurant is open 7 days a week. Kitchen times: 10h00-21h00 Mondays to Saturdays & 10h00-16h00 on Sundays. An Ala-Carte menu is available as well as bar area, lounge, TVs , Veranda, Kiddies Play area, and Boma Fires.
Guided Game Viewing drives which includes refreshments (+/- 2 Hours) please contact reservations for prices. Ingudlane lodge also offers a laundry service at a minimal fee.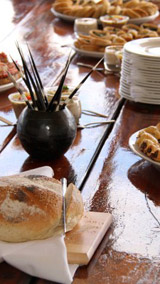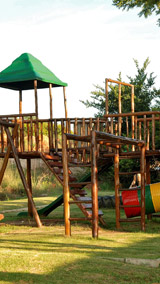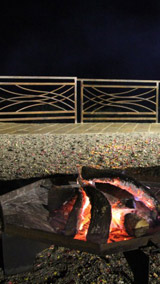 Some of the Game you can see:

African Wild Cat, Black Back Jackal, Blesbok, Zebra, Bush Buck, Bush Pig, Scrub Hare, Caracal, Common Duiker, Eland, Giraffe, Impala, Kudu, Meerkat, Reed Buck, Nyala, Porcupine, Red Duiker, Red Hartebeest, Mountain Reedbuck, Rock Rabbit (Dassie), Serval, Steenbok, Striped Polecat, Warthog, Waterbuck, Water Mongoose . You might even catch a glimpse of our Hippos.
Bird watching. We have over 90 different species of birds.
African Fish-Eagle
African Harrier-Hawk
African Hoopoe
Amur Falcon
Barn Swallow
Black Headed Heron
Black Headed Oriole
Black-Collared Barbet
Black-Crowned Tchagra
Blue Crane
Blue Waxbill
Bokmakierie
Bronze-Winged Courser
Brown-Hooded Kingfisher
Buff Streaked Chat
Cape Glossy Starling
Cape Longclaw
Cape Turtle Dove
Chinspot Batis
Common Fiscal
Common Myna
Common Ostrich
Coqui Francolin
Crested Barbet
Dark Capped Bulbul
Diederick Cuckoo
Egyptian Goose
Fiscal Flycatcher
Fish Eagle

Forked-Tailed Drongo
Giant Kingfisher
Greater Double-Collared Sunbird
Groonscraper Thrush
Hadeda Ibis
Helmeted Guinea fowl
Laughing Dove
Martial Eagle
Namaqua Dove
Natal Francolin
Pin Tailed Whydah
Red Faced Mousebird
Red-Billed Quelia
Red-Billed Teal
Red-Knobbed Coot
Southern Bou-Bou
Southern Brown Throated Weaver
Southern Red Bishop
Speckled Mousebird
Speckled Pigeon
Spur-Winged Goose
Steppe Buzzard
Swanson's Spur fowl
Village Weaver
White Faced Duck
White Throated Robin-Chat
Yellow-Billed Duck
Yellow-Crowned Bishop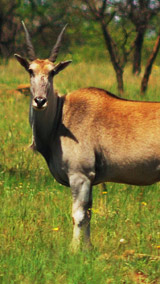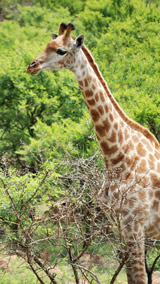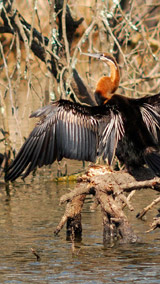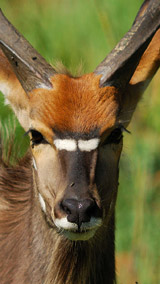 SURROUNDING FACILITIES IN AND AROUND DUNDEE
Talana Museum:
Ingudlane Lodge is on part of the Talana Battlefield (Anglo Boer war 1899-1902) Boer forces on top of Lennox hill (part of the reserve) fired into the advancing British troops at the bases of Talana hill, catching them in a cross fire. From Lennox hill the view to the Battlefield is superb.
Situated only 5 km from Ingudlane Lodge, Talana Museum is on the site of the first battle of the Anglo Boer War. Today the battle is silent. Lonely monuments, a quiet cemetery and a magnificent museum are the reminders of the past. Situated on a 180 hectares of the original battlefield and with the exhibits in 22 buildings there is something for every visitor to enjoy. They also have Arts and Crafts Centre
Battles sites:
Battle of Blood River - 16th December 1838
The Battle of Blood River took place near the Ncome River in Kwa-Zulu Natal. The battle was between the Zulu's and the Voortrekkers.
Battle of Isandlwana - 22 January 1879
Cetshwayo's impis wiped out British troops at Isandlwana in one of the worst disasters in British military history.
Fugitive Drift - 22 January 1879
Fugitives' drift (22 January 1879) is the site where most of the British Soldiers fleeing from the Battle of Isandlwana was to cross the flooded Buffalo River.
Battle of Rorkes Drift - 22 January 1879
Eleven Victoria Crosses for bravery were awarded to British soldiers.
Battle of Talana - 20 October 1899
The Battle as between the British and the Boers
Battle of Elandslaagte - 21 October 1899
The Battle was between the British and the Boers
Shopping - CBD is only a few minute's drive away.
Unique décor and gift shops – Kraaines in Glencoe, offers 18 Rooms of Beautiful décor items. Finesse in Dundee offers stunning flower arrangements as well as gifts. Sneezewood Gift and Coffee Shop is open on Friday and Saturday for a great Cappuccino and gifts.
Golf – 18 Hole Golf Course available. Tennis and Squash Courts right nearby.
We can book Tours with certified guides to the surrounding Battlefields on request.

---